Apr 5, 2020
Why choose when you can have both a green-built home and investment income?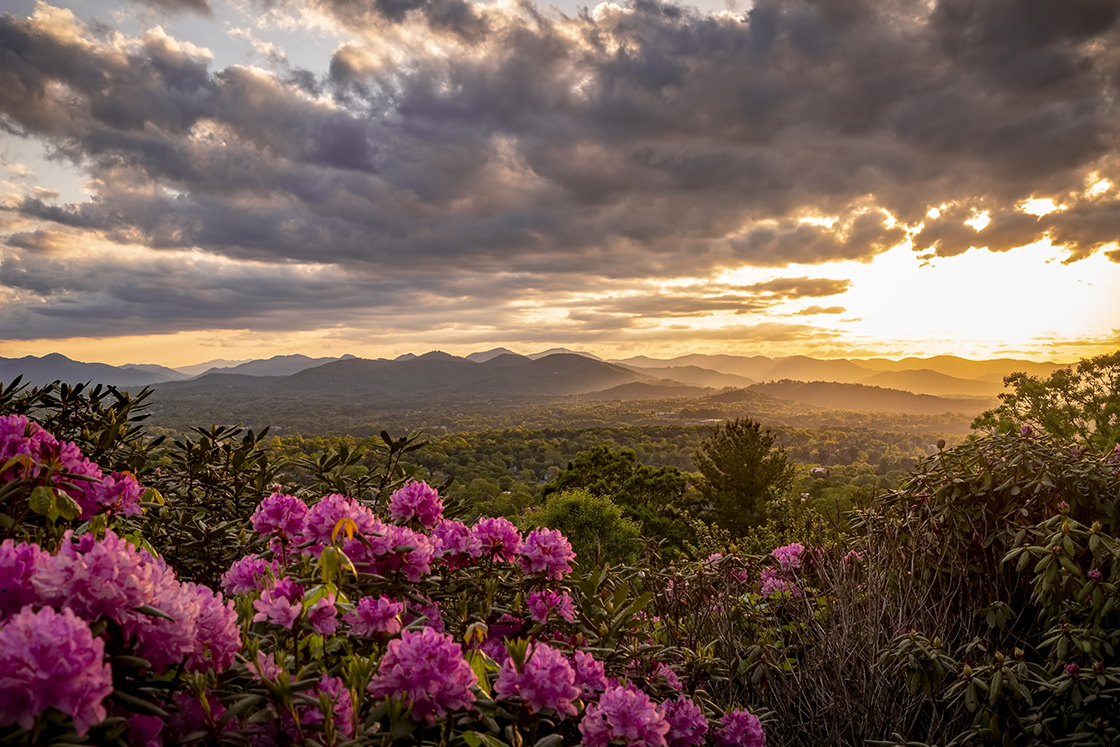 Nature's reminder: enjoy the view
This photo is nature's reminder to look up and enjoy the view. These views not only attract many tourists but also new residents relocating from Florida, New York, California and other highly dense urban cities where the pace of life may not equal the piece of mind people seek. Here in Asheville at Cedar Cliff Village, we are fortunate to be surrounded by such mountain views and gorgeous sunsets with plenty of spaces to explore and places to roam, offering that slice of peace and tranquility. Today, more than ever, our community appreciates our mountains as we all get out, stretch our legs and take a big, deep breath during these unique times.
Best of both worlds
Cedar Cliff Village offers a rare opportunity to both live here and have investment income. We are surrounded by mountains with parks, trails, waterfalls and rivers. We also have a diverse downtown full of independent restaurants, shopping, and breweries. Our arts culture is world renown with art enclaves like the River Arts District and the John C. Campbell Folk Art School within a short drive.
Situated halfway between Florida and New York, we experience all four seasons without the extremes. Our way of life is one where we work hard and play hard in our own backyards. It offers just the right pace in life that's not too busy or crowded but also not too relaxed and country. We have the best of both worlds and you can have it, too.
You can have the mountains and the city
Cedar Cliff Village is an easy 10-minute drive to downtown Asheville or a 20-minute drive to Lake Lure and Chimney Rock where you can play lakeside, rent pontoon boats, camp, sip locally sourced wines, drive with the car rooftop down and see why 'Dances with Wolves' and 'Dirty Dancing' were both filmed there for their wild, rugged forests.
Green built and affordable
Asheville believes in preserving and taking care of our natural surroundings. Cedar Cliff Village homes are Green-Built with luxury engineered flooring, efficient lighting and appliances, high efficiency windows and insulation, heating and cooling. Each home has additional upgrade options you can choose from when you begin to design your home. They are brand new which means you shouldn't have major home costs for several years. These homes are also just the right size, making them affordable to begin your life here and easily able to sell later, striking just the right balance between starter home or retirement home.
Short term vacation rental village
Cedar Cliff Village is also the only short term vacation rental village meaning each home (at the choice of the homeowner) can choose to put their home in our turnkey vacation rental property management company for short term rentals. Groups can rent several homes in the same community rather than being separated when they come to Asheville for a wedding or corporate event. This has made Cedar Cliff Village very popular for short term rentals and is a competitive advantage in the growing vacation rental market.
Choose your perfect lot before they're gone
Cedar Cliff Village has welcomed 7 homeowners to date. Their new homes range from 2 bedrooms to 4 bedrooms. We even have an immediate opportunity for you to check out. It has a fantastic floor plan with an open great room/kitchen with a vaulted ceiling. 2 bedrooms/2 baths on the main level plus 2 bedrooms/1 bath and a family room on the lower level. An example of a Cedar Cliff Village home is 52 Westside Village. We are also excited to welcome our newest owners, they are building the BB Cottage floor plan on Lot 17. View our progress here.
15 minutes to every city
Whether it's for work or vacation, when you need to fly, it's a short commute to any city. We are an easy 15 minute drive to the Asheville Regional Airport in a surprisingly quiet community - we have less traffic, congestion and noise pollution. That means you are 15 minutes to any destination with direct flights to Boston, New York, Florida, Austin, Charlotte and Colorado.
Curious about the Asheville Region's Real Estate Market?
It is gratifying to report that Asheville and Western North Carolina's real estate market fundamentals are in great shape. In our nine-county area, March 2020 was still productive with 456 residential property closings and 161 land transactions. Most homes close in three months or less, and homeowners have, in many cases, reached all-time highs for appreciation.
Many people relocate to Asheville to raise their family, invest in our rising real estate market or simply to retire to live their best life. It is not surprising that the real estate market is seeing a dip in activity as every community is focused on the health and well-being of their residents and businesses. We are confident that the real estate market will return to its former pace like other business sectors once we have conquered COVID-19. We continue to have an enduring belief in the appeal of our mountain communities where we work and play.
Stay strong. Be well. We will see you soon.