Location
Located in the town of Fairview, Cedar Cliff Village is an easy ten-minute drive from downtown Asheville and only three miles to the scenic beauty of The Blue Ridge Parkway. Scroll below the map below to see more details about the convenience of our location. We are off the beaten path, away from traffic congestion and long commutes and yet, we are remarkably close to downtown Asheville. It's truly the best of country living with access to city perks.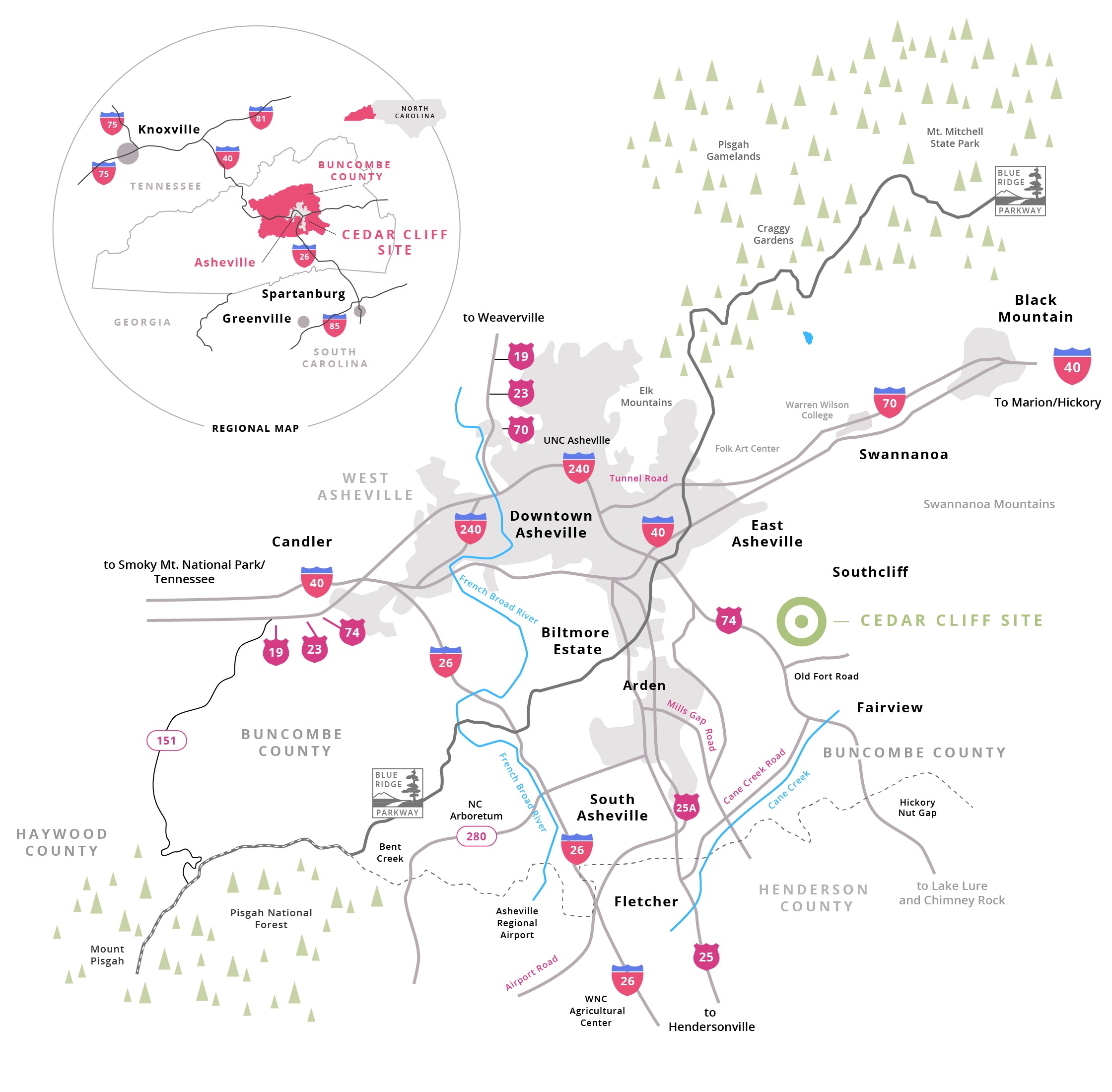 About Fairview, North Carolina
The community of Fairview is located about 11 miles southeast of downtown Asheville via US 74A. Fairview is located halfway between Asheville and Chimney Rock. Fairview is a thriving rural Township of approximately 3,000 people. Local businesses and small family farms provide farm fresh produce, meats, eggs, jams and more to the community and Asheville restaurants. Cane Creek Pool in Fairview includes a pool, soccer fields, picnic sheds, and concession
Fairview offers the country life without having to sacrifice city perks. Cedar Cliff Village is a 10 minute drive to downtown Asheville from US74A. In addition, US74A does not have the traffic issues and congestion. It is remarkably easy to get to downtown or get on I-26 toward Hickory/Charlotte, NC or south Asheville. Communities in Fairview are spread apart, which makes for a less dense way of living among neighbors. Lastly, Fairview is also an easy 20 minute drive to the Asheville Regional Airport which offers many direct flights to major cities (Charlotte, Atlanta, Boston, New York, DC, Miami, Orlando and to major cities in Illinois, Texas and Colorado).
About Asheville, North Carolina
With a population of 87,000, Asheville is the largest city in Western North Carolina and serves as the area's economic and cultural center in many ways. Talk about your A-list cities — Asheville is amassing accolades on many fronts. Billed as a place where "altitude affects attitude," Asheville is located in the French Broad River Valley and surrounded by the beautiful Blue Ridge Mountains. Everyone in and around Asheville knows the best part of living here is the thrill that hits you whenever you realize there's a mountain outside your window. For well over a century, the local topography has influenced everything from arts and crafts to city development to outdoors activities.