5-7-2020
Shades of Green in Asheville NC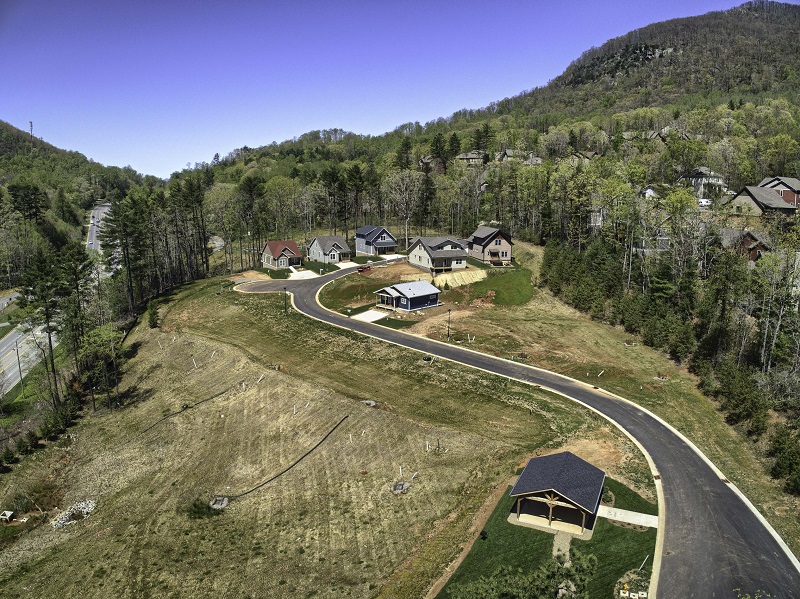 Nature's Green Living Space
If you're tired of congested traffic, long commutes and too many people living next to you, then explore our Green Living Space. Cedar Cliff Village is located 10 minutes from downtown Asheville in Fairview, a bedroom community within minutes of the Blue Ridge Parkway, surrounded in trees and trails. This 2 minute video takes you on a "drive through" and aerial tour showing you the community layout with pavilion, fire pit and lots ready to take on new green-built homes. You can also view a few of the homes already built and see for yourself the wide open space awaiting you.

GREEN-BUILT HOMES
As stewards of our land and community, Cedar Cliff Village is the first entirely green-built community development in Asheville. Our Green Built and Energy Star certified homes are inspected and tested by third party certified professionals. Being green-built also saves you "green" in terms of ongoing maintenance and housing costs. Features Include: Water Saving Plumbing Fixtures Our faucets and toilets are certified to use at least 20 percent less water, save energy, and perform as well or better than regular models. Efficient Lighting and Appliances LED lighting and Energy Star appliances enable our homes to use an average of 15-30 percent less energy than a typical new home. High Efficiency Windows and Insulation help lower utility bills Our windows are argon filled and Low-E, which keeps the energy on the same side of the window it originates from. In the summer, the sun's heat is reflected back towards the sun. And in the winter, your home's energy is reflected back towards the house. Indoor Air Quality Unlike most green builders, we install an ERV in all of our homes. An ERV pulls outside fresh air into your home, and your home's stale air is moved outside. This balanced ventilation protects the home and it's occupants. High-Efficiency Heating and Cooling Our HVAC is designed by a third party to ensure maximum efficiency.
Better than Green Standards Our homes are not only green-built but come with standards higher than you would expect. Things like granite countertops, durable flooring, and a 1-year North Carolina Builder Warranty. Other features include:
Luxury Engineered Flooring: Living Room, Foyer, Dining Room, Kitchen, and Hallway
Carpet in Bedrooms and Loft
Tile in Bathrooms and Laundry Room
Granite Counter Tops Throughout
Stainless Steel Dishwasher, Microwave, Range, Refrigerator, and Disposal
Brushed Nickel lighting fixtures
Water Saving Plumbing Fixtures
Efficient Lighting and Appliances
Efficient Lighting and Appliances
High Efficiency Windows and Insulation help lower utility bills
High-Efficiency Heating and Cooling
And when you're ready to upgrade, so are we.
GREEN, AS IN VACATION RENTAL INCOME
One of the very unique features of Cedar Cliff Village is the short term rental property management each owner can choose to participate in when they're ready. Some choose to use their home as a 2nd vacation home and rent it out the rest of the year. Some choose to live here completely and not rent it out at all but plan to do so later. Some choose to use their home completely as an income producing investment. Whatever you choose, the development will always feel like home to you, your friends and family.

Cedar Cliff Village is the first of its kind vacation rental village where groups can rent homes clustered together. This reduces traffic and makes for a more community feel for visitors and residents alike. The property management company, Inspired Getaway works only with boutique short term rentals and as the owner-operator with the development, maintains consistent professionalism and high standards. Property owners cannot utilize a different property management company whose standards may fluctuate or rules may differ.
Cedar Cliff Village is located on just the outer limits of the City of Asheville where short term vacation rentals are highly restricted and limited. Cedar Cliff is just a 10 minute drive to downtown so it attracts many vacationers for those seeking a 'getaway' kind of feeling and yet an easy reach to downtown shopping and restaurants.
JUST THE RIGHT SIZE Cedar Cliff Village is also just the right size - perfect for beginning families or retirement. With homes starting at $300,000 and 5 different floor plans to suit you, building here is easy.