9-27-2021
Beer and The Blue Ridge Parkway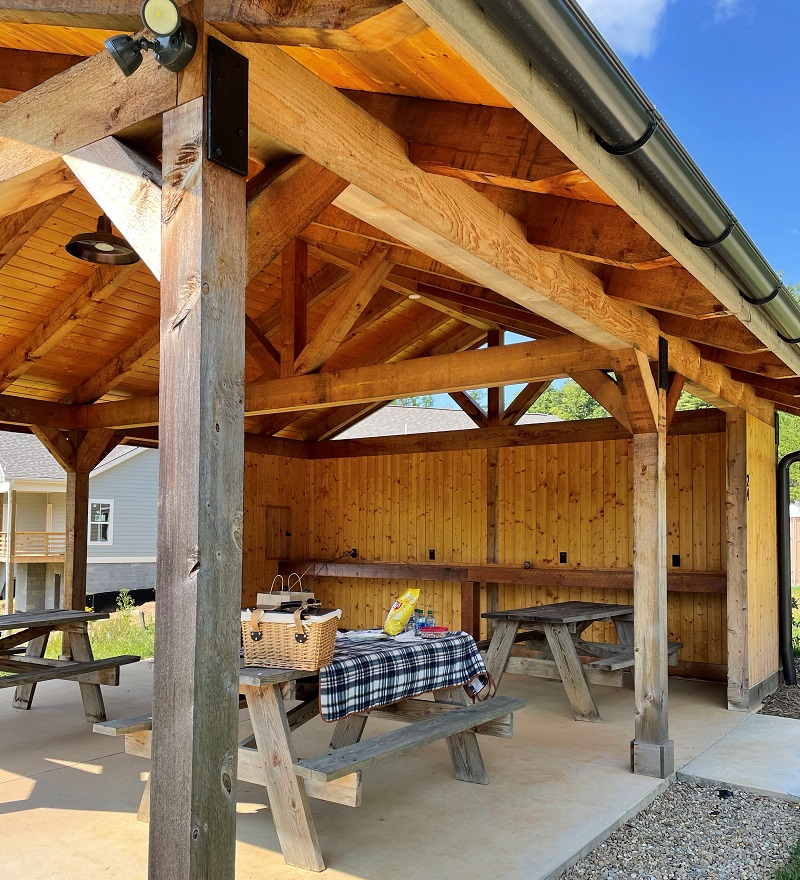 Beer and the Blue Ridge Parkway
Cedar Cliff Village in Fairview, North Carolina, is a short three miles from a Blue Ridge Parkway (BRP) entrance. BRP is the most-visited National Park with over 469 miles of awe-inspiring views. View the BRP Interactive Map here. As you drive along this scenic road, you feel stress slip away like your work clothes after a hard day. If you decide to sit a spell while you unwind, you can do so at one of our popular craft breweries or grab it to go and enjoy it at the Cedar Cliff Village common pavilion (pictured above).
Beer near the Parkway
One of the popular activities near Cedar Cliff and Asheville is trying out one of our great breweries. We are fortunate to have a thriving craft beer industry. The brewery industry kicked into high gear after Highland Brewery opened in 1994. Today, you'll find breweries big and small, as well as brewery tours and annual beer festivals. There are even two breweries near Cedar Cliff Village: Whistle Hop Brewing and Torgua Brewing.
Other breweries of note include:
Hi-Wiring Brewing has three locations for a wide selection of ales and lagers
Burial Beer Company on Asheville's South Slope has an expanded kitchen that serves cuisine that pairs well with their fine-crafted beer.
Asheville Brewing Company downtown and in North Asheville serves delicious pub food in a fun atmosphere.
Of course, if you visit a brewery, have someone else do the driving.
When you buy a green-built home near Asheville in Cedar Cliff Village, you have access to this lively beer scene. Depending on your taste, you can indulge in diverse craft beers, from organic beer made with cold-brewed coffee to a local sour ale.
Why Invest in Cedar Cliff Village?
This intimate community development is less than a half hour's drive from the wonderfully eclectic small city of Asheville, and it takes only a half-hour to get to homier Hendersonville. If you like where you live now, consider becoming a landlord and marketing your home as an Asheville vacation rental. The market is in demand.
Easy access to the BRP is one of many fringe benefits when buying a stunning mountain property for sale near Asheville, NC at Cedar Cliff Village. Whether you make it your primary residence or acquire one of these single-family homes for short-term vacation rentals near Asheville, it's a lucrative, picturesque investment where you or your tenants can enjoy the many outdoor activities Western North Carolina has to offer. These investment vacation homes near Asheville are beautifully constructed, making them superb family homes or short-term vacation rentals in an idyllic neighborhood. Learn more about these features.